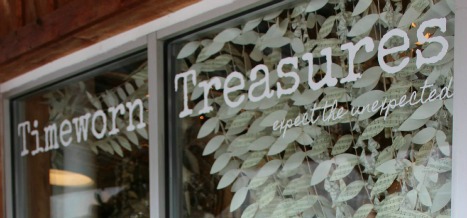 Timeworn Treasures offers a distinctive mix of merchandise ranging from home décor, vintage, and one-of-a-kind finds, to unique jewelry, accessories and much more. Blending the old with the new, there is great attention to detail put into the shop which is evident as you browse the displays. The ever-changing merchandise mix inspires the staff to frequently change and showcase the latest shipments and finds. It is likely that you will never see the same thing twice and each time you shop you will find something new. Hours are put into creating beautiful vignettes where you can discover that perfect find for your home, yourself, or gift for that special someone. At Timeworn Treasures, we strive to bring you anything but ordinary. Here you will find items you won't find anywhere else.
A quaint shop in Danville, PA, Timeworn Treasures is owned and operated by a mother-daughter team with a passion for creating, the unusual, and the thrill of finding treasures and bringing them to you! Incorporating these one-of-a-kind finds, along with the new décor the shop offers, into your decorating will help make your home a personal statement all your own. "Your home is your canvas – Fill every nook and cranny with what you find beautiful."
The shop has also become known for its wide selection of unique jewelry. Timeworn Treasures has selections for any age or occasion. The jewelry can be dressed up, down or mix it all up to create your own look. The shop also carries accessories such as scarves & handbags. The jewelry and accessories make great treats for yourself or one-of-a-kind gifts at affordable prices.
Timeworn Treasures is a family owned and operated business that takes pride in getting to know its customers on a first-name basis. In fact, many customers have become good friends. The staff enjoys providing personal, old-fashioned service, so don't be surprised if they carry your bags to your car.
Along with shoppers being delighted with Timeworn Treasures' unusual finds, creative presentation, and always stellar customer service, they also enjoy the special events held throughout the year. Be sure to watch for upcoming events, stop by and enjoy.
With a true love for design, the Timeworn Treasures team is always thinking of new ideas and ways to deliver the unexpected.
{Shop Hours}
Sun & Mon – Closed
Tues-Fri – 11-5
Saturday – 10-4