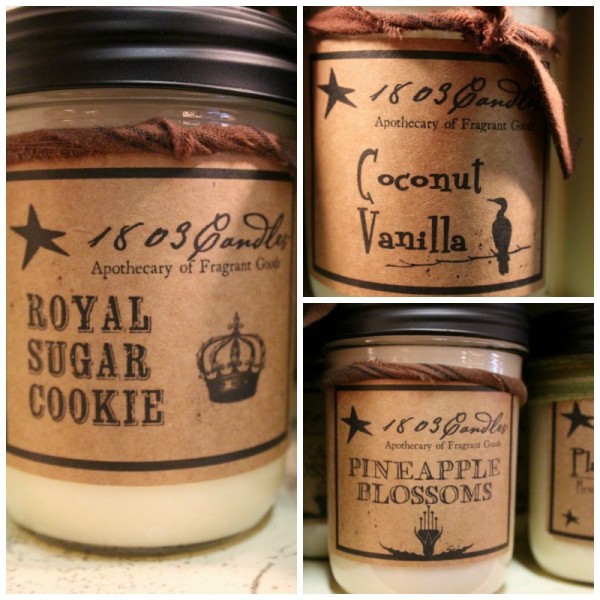 1803 Candles – Reminiscent of Simpler Times – Handmade in the USA
A wonderful line of candles made of soy, featuring wonderful scents! The soy wax is grown and made in the USA. It is clean burning, non-toxic, non-carcinogenic, biodegradeable, and environmentally safe. Burning soy candles will keep your home soot free! This line has proven to be very popular with our customers.
Keep wick trimmed to 1/4″ – bend wick into and out of melted wax to extinguish. Burn candle for 3 to 4 hours at a time. 100 plus hours burn time have been reported by customers!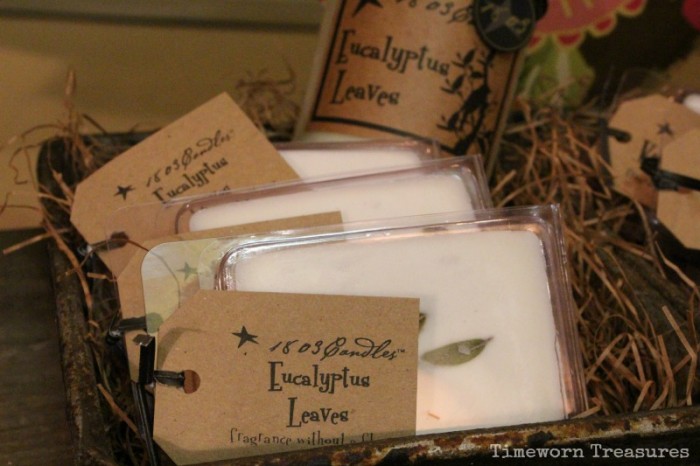 This line is also available in wax melters for use in a wax or tart warmer. Melters bring a powerful fragrance to a room. Each 4 oz. package is infused with spices, fragrance, and essential oils. Available in all scents.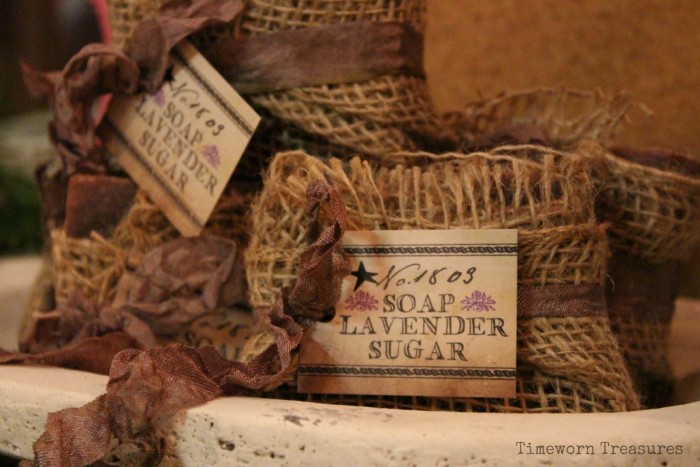 Finally, we also carry 1803 handmade, all natural soap! It contains no parabens, sulfate or petroleum products. Each bar is 4 oz and looks and smells wonderful!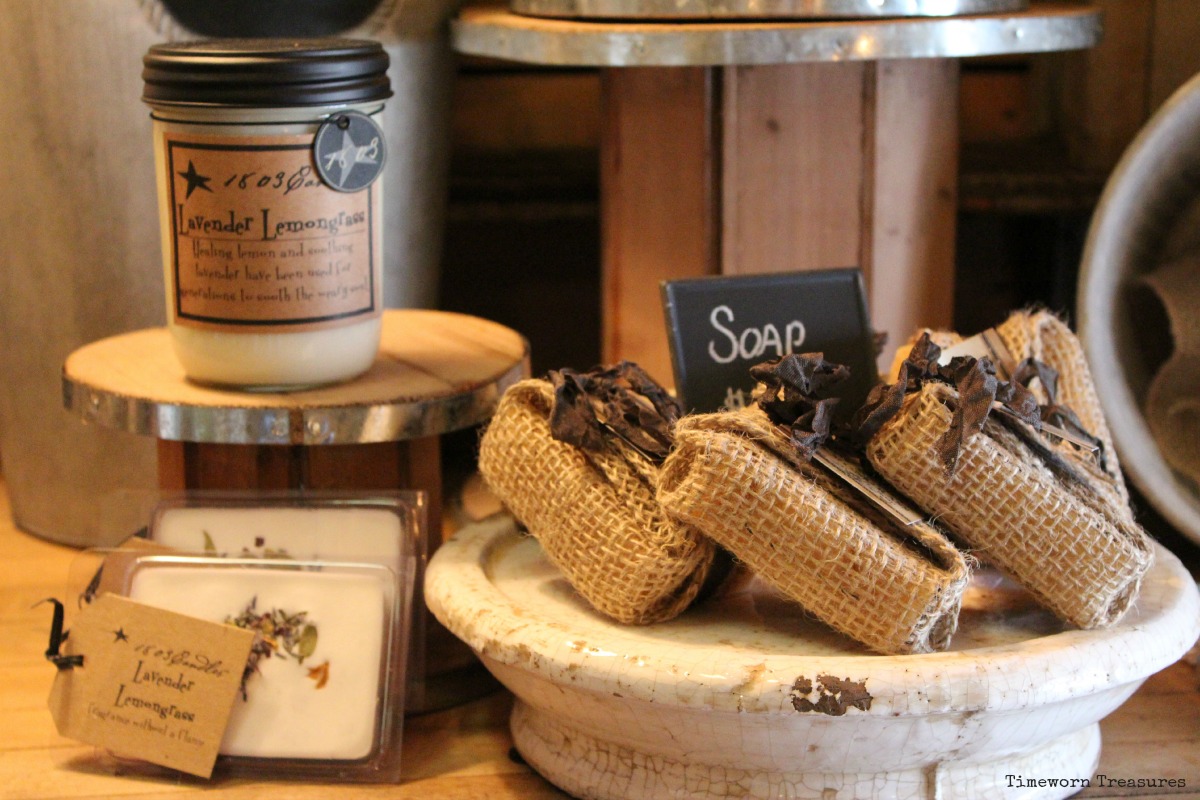 Lavender Lemongrass – NEW scent
See below for the list of candle/melter scents & their descriptions-
Apples & Acorns – NEW
Johnny Appleseed scatters seeds across the countryside… (mulled apples mixed with cinnamon, nutmeg, ginger and nuts)
Apple Butter House
Nanny put's up her apple butter for the season…(cooked apples, butter & clove)
Apple Dumplings
Fried apple dumplings sprinkled with cinnamon and sugar. . .
Banana Walnut Cake
Moms walnut cake is so good, because it's made with love…
Basil & Berries
(1803's blend of melons, berries, basil & peaches)
Believe
in faith, in hope, in love…(red hot cinnamon)
Biscuits & Honey
At the harvest table everyone gathers…(bakery dough, vanilla and honey butter)
Bread Pudding
Bread pudding brings everyone into the kitchen…(warm spiced sweet bread)
Buttered Rum
Reminiscent of simpler times…(dark rum blended with butter, sugar and cloves)
Buttery Caramel
Smoothest caramel ever (1803's caramel & cream)
Cabin on the Hill
Simple and peaceful…(woody spice, firewood and greens) love love love this scent!
Caramel Apple
Reminiscent of simpler times… (you will love this all year long)
Caramel Corn
Reminiscent of simpler times…(blend of brown sugar, molasses, popcorn & pecans)
Cider Mill
Cider Mill open for Tasting…
Cookie Kitchen – NEW
Nanny's cookie book has secret recipes… (spices mixed with honey butter and nuts)
Coconut Vanilla
(a perfect pairing of Hawaiian coconut and rich vanilla)
Cornbread and Honey
There's somethin about cornbread – folks eat it mornin, noon and night…
Crab Apple Farm
Mr. Jones gives us apples for mama . . . true green apple scent
Cranberry Cupboard
Old cranberry cupboard shows it's age…cranberry and cinnamon
Driftwood Shore
A stroll along the shore…(seaspray, moss & driftwood)
Eucalyptus Leaves – NEW
Bold and bright eucalyptus to clear your mind and relax your weary bones…
Farmhouse
Welcome to the Farm. . . vanilla bean with notes of caramel and chocolate
Fresh Honey & Citrus – NEW
Amazing honey bees captivate our imagination…(fresh honey with citrus for a fresh outdoor scent)
Friendship
Old friends are never far away . . . spice box spices with warm pie crust
Good ol' Apple Pie
(spiced apples & pie dough)
Graham Cracker
Reminiscent of simpler times…(blend of brown sugar, vanilla, gingerbread & warm spices)
Grandma's Kitchen
Needful fixin's for baking…fresh oatmeal cookie
Grandpa's Trees
While sitting on the porch you can smell papa's pine trees…
Grated Cinnamon
Ground cinnamon wrapped in brown paper….(cinnamon stick with bakery notes)
Hearthcake
Nanny would wrap fresh cakes to keep warm by the hearth…(snickerdoodle cake)
Home by the Fire
The room feels comfortable and familiar home by the fire…(fireplace woods and branches)
Home Sweet Home
There is no place like home . . . (touch of vanilla bean, lots of spice and juicy raisins)
Honeysuckle Vines
Reminiscent of simpler times…(honeysuckle flowers)
Ice Cold Honeydew – NEW
Mama brings ice cold honeydew on a pretty plate to Papa…simply refreshing
Indian Summer
Lush greens fades to gold…(sage & cinnamon)
Just Picked Flowers
Filling vases for all to see…(english garden flowers)
Lavender Buds
Just cut lavender sprigs… (strong herbal lavender) *one of my favorites in a candle or room spray
Lavender Chamomile
(soothing infusion of lavender & chamomile flowers)
Lavender Lemongrass – NEW
Lavender and lemongrass blended to bring you a fresh uplifting scent…
Lavender Linen
The linen chest is filled with…(lavender sprigs & cotton)
Lavender Sugar
Reminiscent of simpler times…(vanilla sugar blended with lavender buds)
Leaves, Petals & Vines – NEW
Like walking into a tranquil garden…(mixture of freesia, lavender and vines)
Lemon Drop Cookies
Reminiscent of simpler times…(sugar cookies with lemon zest)
Maple Sugar House
The maple butter is just a boil'in in the old shack out back…
Mom's Kitchen
A place where everyone gathers anytime of day . . . creamy caramel, nuts and spice
Nantucket Breeze
Peaceful to the soul…(seasalt, fresh air & sunshine)
Northwoods Cabin
With the breeze you can smell the berries, the leaves and the trees in the forest..
Nutmeg & Vanilla
Grated nutmeg and vanilla beans…
Nutty Pumpkin Waffles – NEW
A fall favorite that brings everyone to the breakfast table…(pecans, pumpkin and buttery batter)
Oats & Honey
Warm cream, nutty oats and soothing honey
Olde Brick Hearth
The brick a rich patina from the heat of the hearth…(rich fragrance of burning embers & twigs)
Olde Dough Bowl
Dough bowl filled with, cinnamon stick, clove and lot's of spicy rosehips. . . (crushed cloves)
Perfect Morning
Reminiscent of simpler times…(coffee infused with spice & pumpkin notes)
Perfect Pumpkin
Homes are adorned with cornstalks and the perfect pumpkin. . . distinct pumpkin and spices
Pink Petals
Delicate & lovely…(mysterious woods, bergamont, patchouli & musk)
Pineapple Blossoms
(golden pineapple, leaves & blossoms)
Pumpkin Cornbread
Nannies recipe books say's to add a pinch of honey…
Pumpkin Hollow
The best pumpkins can be found at pumpkin hollow (pumpkin cinnamon crunch)
River Birch
The roar of the river past the trees…(bergamont, geranium, patchouli, tonka bean, woods)
Royal Sugar Cookie
Queen of sugar cookies !
Salt Box Blossoms
Gardens surround the house (wisteria and a splash of lilac) different from Vintage Lilac
Seed Pots & Blooms
Mossy pots sit on the potting bench…(herbs and green grass) this is fresh and wonderful
Simply Clean
Reminiscent of simpler times…(soap and water fresh)
Southern Welcome
The ladies in the village welcome families with their best recipe . . . marmalade bundt cake
Spice Box
The spice box hangs in the summer kitchen with ground cinnamon, clove buds, nutmeg, allspice. . .
Spring Rain
The bird bath fills & children splash in the puddles…(clover leaves and aloe)
Toasted Marshmallow Spice
(warm marshmallow drizzled with caramel glaze)
Vintage Harvest
We are blessed by a fruitful harvest…(applebutter, ginger cookies & cinnamon)
Vintage Lilac
The fresh smell of lilacs reminds me of a walk among papa's trees…
Weathered Crow
The weathered crow pecks at chestnuts… (chestnuts, brown sugar, cream and spice cake
Winter Pear
(fresh white pear drizzled with caramel glaze)
Wood Stove Pie
A tin pan holds a flaky crust with creamy custard and spices
Yummy Pumpkin Seeds
(a blend of pumpkin & toasted marshmallow fluff)
Christmas Scents-
Christmas at the Farm
We take buttery toffee to our neighbors
Comfort & Joy
(orange peel, holiday spices, bay leaf, pine cones & a touch of peppermint)
Cookies for St. Nick
(1803's snickerdoodle cookie)
Homestead Holiday
A horse drawn sleigh rides along the river…(spruce,pine,fir trees, warm and woodsy)
Misteltoe Kisses
Mama and daddy kiss under the…(mixture of soft greens & berries)
Nostalgic Goodness
Snowmen, gingerbread & candy…(gingerbread, marshmallow & a touch of peppermint)
Peppermint Bark
(yummy peppermint & creamy dark chocolate)
Pine, Needles and Berries
Grandpa cuts the first tree of the season…(pine cranberry, orange and spice)
Sleighbells & Snowflakes
Sleighbells rings are you listen'…(vanilla bean noel & peppermint)
Yuletide Cinnamon
Fresh boughs drape from the buttermilk cupboard…(bakery cinnamon and a little pine)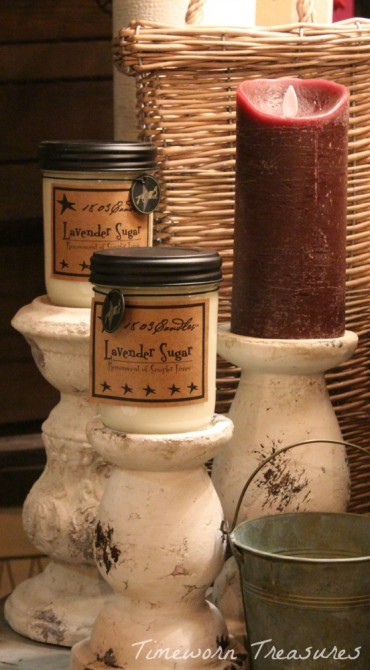 Stop in and discover your favorite scents!